I'm always on the hunt for the next best minimalist running shoe that feels closest to being barefoot. That is, a shoe that's thin enough to provide the sensory funds to help me easily execute and maintain a proper forefoot strike while running.
Sadly, many athletic footwear brands and athletic stores do not offer a pleasing assortment of barefoot-like shoes, if not any! This is a major disappointment because aside from going completely barefoot, barefoot-inspired running shoes are really the next best choice and are at the forefront for helping you develop sustained foot strength. To make your search for that perfect minimalist shoe easier, I've compiled a list of the best minimalist shoe brands that can help leave injury behind you!
List of Top Minimalist Shoe Brands
Vibram FiveFingers
There's no better way to improve foot strength than with a shoe that looks like the human foot! Because the shoe literally compliments your foot's anatomy, the Vibram FiveFingers provides the structural resources your foot needs to build up more strength and vitality. The individual toe sockets are also a major structural asset of the shoe because it promotes more optimal toe splay, giving you more leverage for better balance control. Better toe splay also serves as the first line in helping to prevent and reverse bunion enlargement. Vibram also makes an incredibly thin, flexible outsole that gives you a more tighter supply of sensory feedback, helping to bring together all the right mechanical modifications needed to lighten your landing load during running. You can learn more about Vibram and their collection here!
Vivobarefoot
Vivobarefoot minimalist shoes feel and fit very similar to the Vibram FiveFingers, minus the individual toe sockets. Vivobarefoot is well-known for having an incredibly wide toe-box, thus toe-splay is not limited which helps reduce over-loading hot-spots on the foot by redistributing foot pressures over a larger surface area throughout the foot/ankle complex and helps anchor your footstep stability more securely. Not to mention, the Vivobarefoot's versatile stylish design makes shoe look great for running, but for recreational and business causal wear, also. You can learn more here about Vivobarefoot's diverse range of minimalist footwear and why the shoes were built to do the minimalist job right!
XeroShoes
If you're looking for a robustly-built minimalist sandal for 5km to ultramarathon running distances, multi-terrain walking and hiking as well as causal wear, XeroShoes is definitely right up your alley. But XeroShoes doesn't just only offer barefoot-feeling sandals. They now offer minimalist shoes which just like their sandals, their shoe-line does a great job at keeping your feet engaged at high level which fights off the typical wilting of the foot's muscles, soft tissues and tendons that so often occurs with over-reliance on rigid traditional footwear. If you're interested in learning more about XeroShoes and getting your paws on a pair, you can do so here!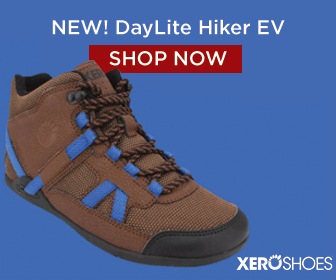 Lems Barefoot Shoes
If you want a more beefy-structured minimalist shoe that's race-ready for any mileage (5km to marathon) on any beat up, harsh road, the Lems minimalist running shoes (which are 100% vegan-friendly) excels on that. Lems Shoes are an intricate mix of high-quality materials that assemble into a robustly protective and durable, yet flexible and form-fitting package that pushes the foot's muscular engagements, necessary for building a functionally stronger foot, well-above the levels compared to traditional running shoes. Despite the underfoot protection, Lems footwear still allows you to feel the road, so you can uphold good forefoot running form but is protective enough to make the bumps on the road feel good. Aside from their fresh, snappy-looking running shoes, Lems also offers a nice range of stylishly eye-grabbing hiking, walking, causal and more fancier-looking shoes, too! If you're interested in learning more about their running shoes, you can read my full review of the Lems Primal 2 minimalist running shoes, here!


FeelGrounds Barefoot Causal Shoes
If you are on the hunt for a casual, more formal-looking barefoot shoe, the FeelGrounds are absolutely it! The FeelGrounds are full of timeless style and most importantly, all-day comfort thanks to the shoes anatomically-shaped, ergonomically-friendly design where the feet are freer to spread and flex, and therefore self-strengthen. Even better, the FeelGrounds sit on a 5-mm thin sole that immediately boost sensory engagements at the feet which is instrumental in improving balance and mobility healthy in a way that maintains. Read my full review here!  
Merrell
Sadly, Merrell only makes one decent barefoot-like minimalist running shoe, the Vapor Glove, which is full of nothing but lightweight elements that form an incredibly flexible, light and airy vegan-friendly wrap around the foot and sits on a 0-drop (completely flat) Vibram rubber outsole. The Vapor Gloves provide a tad more underfoot protection than most Vibram Fivefinger models, without sacrificing much ground-feel, but has a similar wide foot-shaped design and feel as most Vivobarefoot models. The Vapor Glove really does have a design that works for mostly everyone and has a peppy-feel that'll spur you to pick up your pace more easily. Despite the outsole thinness, the Vapor Glove has a surprising amount of dependable durability and is ready for any distance!  The Vapor Glove is also offered in a variety of coats of paint from vibrant bright colors to natural warm tones. Here's where you can learn more about what the Vapor Gloves can do for you!
Tesla Running Shoes
If you are on a budget, you may be very interested in the Tesla zero-drop minimalist running shoes because they're almost a carbon-copy in structure and feel as the Merrell Vapor Gloves, just at a lower price point. Other minor differences include the Tesla is more insulated, thus better-suited for much chillier temperatures and is armored with a tad more durable underfoot protection that exceeds at handling greater mileage and faster, harder efforts. You can read my full review of the Tesla minimalist running shoes here!
Inov8 Minimalist Shoes
Inov8 makes flexible and flat, incredibly thin and sleek minimalist shoes with a little more padding than most Vivobarefoot shoes, but still supplies a good amount of sensory input flow that actively encourages good running form. Most Inov8s are great for running on multi-surfaces and are especially optimized for cross-fit and obstacle course races. Find out more here about how Inov8 can add value to your training and performance.
Asics
Asics doesn't really have a strong presence in the minimalist market, but they do offer two barefoot-like shoes that will definitely meet your minimalist needs! The first one is the Piranha which offers reliable ground-feel as well as a fluid, fully flexible architecture that's configured to help bring out the best in your forefoot running form. Secondly, we have the GEL-Fortius TR which is a CrossFit and OCR-specific minimalist shoe that's armed with the right amount of protection and natural feedback.
Mizuno
Mizuno is incredibly well-known for designing heel striker running shoes, but soon after Born to Run, Mizuno designed a few minimalistic running shoes, the Wave Universe and the Wave EVO Letivas to help meet the comforting and mechanical needs of forefoot runners. Both shoes have significantly less cushioning, a lower profile and impressive flexibility and durability, helping you better evaluate your forefoot running mechanical efforts.
Nike
Sadly, Nike only produced one barefoot-inspired running shoe, and its NOT the Nike Free! It happens to be the Free 1.0 Cross Bionic, which will help you produce good mechanical behaviors associated with the sensory factors illuminated by the paper-thin, flexible and light outsole.
Skora Shoes
Want a more warmer barefoot running shoe for the winter? Skora makes most of their shoes with the upper made of goat leather, which is very thermal for the feet. Skora's are always wide, having a D-width toe box. Most of their shoes are aslo made with a thicker outsole that is incredibly, so they would be great for endurance runs.
If you are looking for the perfect barefoot shoe for forefoot running, check out my barefoot shoe reviews, to help you choose the best shoe. I also have a YouTube channel where I give a more in-depth, full-range analysis of barefoot-inspired running shoes I feel are most suitable for forefoot running.
If you'd like, you can support Run Forefoot and help keep it going strong by making a donation in any amount of your choosing: https://www.paypal.me/RunForefoot
Or, you can also support Run Forefoot by shopping at the following, and be sure to bookmark the links:
Xero Shoes: http://bit.ly/2UIR9YK
Lems Shoes: http://bit.ly/2YZwe1r
Zappos: https://goo.gl/J1CeAd
Amazon: http://amzn.to/2yvQvT4
"I believe the forefoot strike is the engine of endurance running..."

BSc Neurobiology; MSc Biomechanics candidate, ultra minimalist runner & founder of RunForefoot. I was a heel striker, always injured. I was inspired by the great Tirunesh Dibaba to try forefoot running. Now, I'm injury free. This is why I launched Run Forefoot, to advocate the health & performance benefits of forefoot running and to raise awareness on the dangers of heel striking, because the world needs to know.
Latest posts by Bretta Riches (see all)