In the hunt for a minimalist sports sandal without the bothersome toe-strap? You'll love the XeroShoes Z-Trek because the sandal's new strapping system makes every stride feel as if you're barefoot! What's more, the Z-Trek is literally the ultimate sports sandal made for running, walking, and hiking on and off-road, handling exceptionally well on technical rocky routes! Its even better that the sandal is incredibly nimble n' light, and is a workhouse in the durability department as XeroShoes offers a 5,000 mile warranty!
Like all XeroShoes sandals, the Amuri Z Trek draws its inspirations from the barefoot condition in that the Z-Trek is zero-drop (completely flat), super thin and wide. Its also feather-light and fully flexible with form-fitting straps to keep your feet thoroughly engaged which makes them strong and functionally resilient.
What's the XeroShoes Z Trek Good for?
You'll get limitless versatility with the Z-trek because its a big performer for 5-km to ultra-marathon runs on both hard and smooth surfaces, and is perfect for biking, yoga, weight-lifting, walking/running/hiking through streams, on the beach and on rocky, bouldery, root-littered trails.
Better yet, the Amuri Z Trek is wonderful for walking because the sandal's barefoot-first design is a conditioning exercise for your feet, making them stronger than ever, which is also why the Z Trek makes a great transition tool to barefoot running.
Upper Specifications
The standard lacing of the typical minimalist sandal got a complete overhaul in the Z Treks because the laces were replaced with straps, and for your convenience, the sandals come ready-to-wear with the straps already installed!

The straps are ultra thin and soft-feeling giving long-haul comfort since there's no issues with securing the straps tightly to lock down the foot to the sandal. This gives an outstandingly natural, pressure-free, foot-hugging fit.
The strap's are made of a nice balance of water-resistant fabrics and rust-proof hardware to form a functional assembly that's expansive, flexible and  moves very well with your foot. The straps also hold up impressively, durability-wise.
All in all, the straps are intended to allow your foot to expand to its natural state which really helps the feet participate in the way that it should to keep them functionally strong and tolerant. In this way, you'll also move more steadily and adaptively on challenging terrain.
Sole Specifications
The Z-Trek sits on a 10-mm rugged rubber sole that delivers an exceedingly fast n'zippy barefoot-like ride. Better yet, the sole is armed with a surprising amount of durability thanks to the brands patented Feel True rubber, which gives such a thin sole an impressive amount of longevity.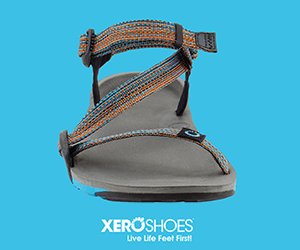 Another highlight is the sole's extremely low-profile is more than low enough for the barefoot crowd and allows you to properly connect on your forefoot while keeping you balanced, especially on uneven routes.
What's more, to improve the fit and feel, the sole features a heel cup that fantastically cinches down onto the heel, securing it from moving around and it helps keep debris out, too!
As for traction, the sole employs full-coverage of arrow-headed lugs to make the entire sole super bendy to give a restrictive-free fit that will help your feet get stronger. The tread also offers very dependable grip and protection on a mix of gnarly terrain from gravelly uneven grounds to rooted, acorn-littered trails to taming the feel of rocky routes. It also takes you from trail to road without missing a step by delivering a soft, responsive ride on smooth level paths, like streets, sidewalks (concrete and asphalt) and the track. 
Another impressive asset of the Z Trek's sole is it gives ample flexibility and traction to move more agile in streams!
Despite the soles rugged durability, the Z Trek's meant to do exactly what it was designed to do in providing the necessary ground-feedback to keep you connecting properly on your forefoot when you run. Furthermore, the endless flow of ground-feedback is also needed for foot strength to thrive.
Final Thoughts
One of the many things I love about the XeroShoes Z-Trek is they're budget-friendly without skimping on quality and durability, and that the sandal is meant for not only performance and comfort, but functionality, letting your feet and mechanics work the way they should!
If you're interested in learning more and getting your paws on a pair of the Xero Amuri Z Trek, you can do so here: Amuri Z-Treck – Lightweight Sports Sandals
If you've enjoyed this review, you'll love my other reviews here on all the barefoot-like running shoes best suited for forefoot running!
If you'd like, you can support Run Forefoot and help keep it going by making a donation in any amount of your choosing:
Or, you can also support Run Forefoot by shopping at the following top minimalist shoes brands, and be sure to bookmark the links:
Be Lenka: https://www.dpbolvw.net/click-7600968-14330828
Xero Shoes: https://xeroshoes.com/go/Run_Forefoot
Iguaneye: https://www.iguaneye.com/?ref=8tfXVc92
Soft Star Shoes: https://shrsl.com/3mp1b
Wilding Shoes: https://bit.ly/3lIygQP
Vivobarefoot: https://shrsl.com/3kvih
Zappos: https://goo.gl/J1CeAd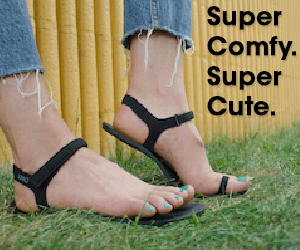 ---
"I believe the forefoot strike is the engine of endurance running..."

BSc Neurobiology; MSc Biomechanics candidate, ultra minimalist runner & founder of RunForefoot. I was a heel striker, always injured. I was inspired by the great Tirunesh Dibaba to try forefoot running. Now, I'm injury free. This is why I launched Run Forefoot, to advocate the health & performance benefits of forefoot running and to raise awareness on the dangers of heel striking, because the world needs to know.
Latest posts by Bretta Riches (see all)