If you're a minimalist road or trail runner of distances ranging from 1 mile to the half-marathon and you're looking for a barefoot-feeling minimalist shoe with a soft n' plushy-feel to it, the TadeEVO forefoot running shoes will surely provide the comfy, yet barefoot ride you seek!
Despite the pillowy-soft underfoot, the TadeEVO forefoot running shoes amazingly produce strong barefoot-effects by delivering exceptional ground-feedback clarity that will definitely excite the minimalist/barefoot crowd because in addition to its remarkable barefoot-feel, the TadeEVOs ergonomic fit encourages more engaging use of the foot and toes, helping you build functionally stronger, more tolerant feet!
The TadeEVOs thinness also helps you uphold a barefoot-like running stride (forefoot running) more easily which has proven to prevent mechanical overloading on the ankle, knees and hips as compared with heel strike running.
Bottom line, one of the reasons the TadeEVO forefoot running shoes are so effective as a barefoot running shoe is they help build stronger, more enduring feet by giving your feet the freedom to move more functionally at every step. In this capacity, your foot muscles work independently which encourages more active efforts of the feet, enabling foot functional strength development to be more fast-evolving.
Just as equally important, the TadeEVOs thin rubber sole feeds your feet with enough barefoot-like sensations that'll help you be more aware of your forefoot strike placement and will help you move away from mechanically unbalanced running to helping you adapt an overall forefoot strike running style that's more protective and sturdy at every level.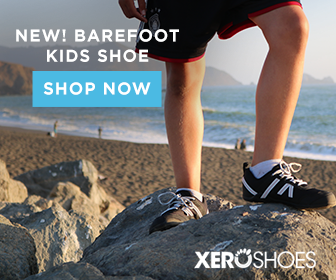 In all these ways, the TadeEVO forefoot running shoes can help you go even further in your training and may lead to positive outcomes in injury prevention.
Last, but not least, aside from looking fantastic as a casual shoe, lets take a closer inspection at the essential features and functional benefits of the TadeEVO barefoot shoes that make it possible for you to run your best!
Upper
The TadeEVO may look made with heavy overlays, but the upper is anything but bulky! The upper is actually impressively low-weight and perfectly foot-conforming. This is because the upper materials consists of a breathable, lightweight, moderately thin, but dense, soft closed-mesh with some soft, high-quality velour leather framing for extra protection which also gives the shoe more sturdy structure.
The TadeEVOs upper has received universal praise for its incredibly smooth-feel when worn sockless. In fact, the TadeEVOs upper materials are softer and more flexible than many minimalist running shoes, like the New Balance Minimus, even the Vibram KSO Classics. The TadeEVO uppers flexibility and softness is similar to the Merrell Vapor Gloves, the Sockwa X8 and the Vibram KSO EVOs.
The entire TadeEVO's upper flexes in any direction your foot wants to move, making the shoe ideal for agility and speed workouts and overall results in a more stable ride.
Despite its thinness and airiness, the TadeEVO's upper does an admirable job at keeping the feet warm in cold temperatures (especially when paired with thin socks) and will surely provide the warm ride you seek in dry, chilly fall and winter weather!
The entire shoe feels pretty thermally-protective because my feet kept warm in cold, snowy weather! I'm also pleased with how well the upper stopped snow entering from the top of the sock!
The upper is quite the protective umbrella, built with sturdy, yet supple materials that'll keep the feet toasty while perfectly allowing the entire foot, especially the toes to flex and expand as needed.
Inside the TadeEVO feels very smooth and provides a pillowy-soft underfoot that you don't get in most thin minimalist running shoes. With that said, if you're looking for a softer, smoother, plushier ride for the roads and trails as compared with most Vibrams, the TadeEVO fits the bill!
I know I emphasize how soft and cushy the TadeEVO's underfoot is, but these shoes really do deliver plenty of ground-feedback essential for activating your reflexive senses which gives you more protective means to prevent costly mechanical mistakes during running. In fact, the TadeEVO is an excellent choice for runners looking to either ease into barefoot running or want to use barefoot-like underfoot sensory support to improve their running form. In that regard, the TadeEVO is fairly evenly matched with the barefoot condition and will definitely give you a high success rate in cleaning up your running form or preparing your feet, condition-wise for barefoot running.
You'll also love that the TadeEVO feels just like a slipper, especially when sockless! This is because the inner lining is constructed with few inseams to minimize blisters. Moreover, the laces are feather-light and simple, but does a great job at securely holding your foot in place inside the shoe, preventing in-shoe sliding when you run fast or cut sharp angles.
Outsole
The TadeEVO's outsole is zero-drop, giving a close-to-the-ground ride and provides a soft underfoot-hugging-fit that's completely flexible throughout! I was struck by how incredibly soft the sole feels, yet its impressively barefoot-mimicking and durable to handle running long distances on pavement.
The TadeEVO is well-suited for the streets as the sole's softness and durability helps smooth out the roughness feeling of harsh, beat up, cracked roads.
The underfoot softness is even throughout the shoe and overall, delivers a smooth, steady ride that's free of stiffness, giving you a clunk-free forefoot strike when running.
As for traction, the TadeEVO puts enough rubber in contact with the ground to firmly grip light snowy surfaces.
The TadeEVO's simple-looking outsole definitely acts more rugged than it looks! The soft rubber actually offers robust protection and traction to navigate on tricky terrain, keeping your footsteps strong and sturdy on an even keel when running in the snow. Even more impressive, the sole is an effective layer of thermal protection in wintry weather, too!
Ultimately, by combining reliable traction, good ground-feel and moderate thermal protection, the TadeEVO forefoot running shoes are quite the capable winter (dry snowy conditions) minimalist running shoe that provides a stable landing surface, helping prevent your forefoot strike from getting sloppy when running in sloppy conditions!
Final Thoughts…
I can honestly say the TadeEVO forefoot running shoes are a solid execution of a true minimalist running shoe because the shoes encompass all the essential features that makes a minimalist running shoe great for improving stride effectiveness and efficiency.
I love that the TadeEVO's design is completely forefoot strike-embracing for running and incredibly barefoot-feeling. The thin, flat heel-to-toe drop won't interfere with your forefoot strike control or balance, which can keep you rolling along more injury-free! I also love that the shoes can help speed things forward in getting your feet functionally stronger, thanks to the shoes ergonomic geometry which ensures the freedom of movement that switches on the foot's muscles more fully.
It's for all these reasons I recommend the TadeEVO minimalist running shoes for runners looking to ease into barefoot running or who want to develop a more prefect forefoot strike running stride but don't want to run barefoot. The TadeEVOs are also ideal for the barefooter who wants to wear shoes every now and then as the shoes can help you stay on the course that you've begun in keeping your feet strong.
For a more cleared-eyed view of the TadeEVO forefoot running shoes, I did a video review on them here!
If you're interested in getting your paws on a pair of the TadeEVO barefoot shoes, you can do so here!
If you've enjoyed this review, you'll love my other minimalist shoe reviews here! You can also catch me on my YouTube channel here, where I talk about the health and performance benefits of barefoot running and I showcase more minimalist running shoes best-suited for forefoot running!


You can also make a donation in any amount to help fund the compelling and original content at Run Forefoot!
"I believe the forefoot strike is the engine of endurance running..."

BSc Neurobiology; MSc Biomechanics candidate, ultra minimalist runner & founder of RunForefoot. I was a heel striker, always injured. I was inspired by the great Tirunesh Dibaba to try forefoot running. Now, I'm injury free. This is why I launched Run Forefoot, to advocate the health & performance benefits of forefoot running and to raise awareness on the dangers of heel striking, because the world needs to know.
Latest posts by Bretta Riches (see all)