I recently got my paws on the forefoot running shoes, the Joe Nimble Toes which are zero-drop (completely flat), fully flexible, wide and form-fitting and are built for running short and long distances, fast or slow, on smooth to hard, beat-up, rocky roads as well as all kinds of trail conditions. 
The Joe Nimble Toes are made of incredibly tough materials and overall, the shoe really embodies all the qualities of a true minimalist shoe that goes into helping improve your forefoot running mechanics.
Another credential of the Joe Nimble Toes is they're completely free of foot strength-robbing constructs, such as stiff arch support, stability reinforcements and heel-counters. In this capacity, the feet are much freer to engage more functionally which helps aid in rapid developments in foot strength and a healthier arch-height profile. Because the shoe is not bogged down with unnecessary structural reinforcements, gives the Joe Nimble Toes its lightness, making your stride feel peppy which can give you a more performance edge.

What is more, the ergonomic design and barefoot-feel of the Joe Nimble Toes makes the shoe a premium candidate for runners looking to transition to barefoot running.
Just to give you a little background about the company, Joe Nimble Toes, which was created in collaboration with Lee Saxby, the company is a BIG proponent of the natural running movement (i.e. running with a NON-heel strike landing) and the company's mission is to get runners moving in a way that's more functional and mechanically safe (i.e running with a forefoot strike landing pattern).
In keeping with the natural running movement, Joe Nimble Toes has produced a stylistically diverse line of barefoot-inspired footwear intended to help you produce results that matter in helping you maintain a barefoot-like stride while strengthening your ability to engage your feet in a more functional way when running and walking!
Ultimately, the net effect of wearing the Joe Nimble Toes is better posture, steadied balance, stronger feet and ankles and better leg swing control, which is why the Joe Nimble Toes can be a relevant asset in helping prevent injury.
Like I touched on earlier, the Joe Nimble Toes are more of a true minimalist shoe that puts you on a firmer, more proactive footing during walking, running and hiking because the shoes have no crazy techy gizmo's that impair the natural function of the human foot. Its for the this reason that the Joe Nimble Toes prompt more widespread functional use of the foot, thereby renewing your foots role in helping you fuse a more stable connection with the ground which in turn, helps you move better, walk better, run better in a more functional, safe manner.
Overall Feel and How They Compare to Other Minimalist Shoes
The Joe Nimble Toes feel like a cross between the New Balance Minimus and the Merrell Vapor Gloves which means the Joe Nimble Toes are light, but not legendarily light, like most Vibrams or Sockwa's. This is because the Joe Nimble Toes are armed with more material density than most barefoot-inspired shoes, but by no means are the Joe Nimble Toes bulky! They are still remarkably light, giving you the sensation that you're barely wearing anything on your feet! This is why the lightness of the shoe gives a natural, zippy-feel which is great for going fast!


In my opinion, one of the major strengths of the Joe Nimble Toes is the entire framework is very well-built and very stable in construction. They certainly don't feel flimsy and the materials feel like they offer substantial puncture-resistance. For this reason, I'm hoping the shoes will hold up structurally, long-term, over running long, hard miles, and don't fall apart like many wafer-like thin minimalist running shoes!
Outsole
The Joe Nimble Toes sits on a 4-mm thin, zero-drop, flexible Vibram rubber outsole that gives you the advanced ability to maintain a forefoot strike landing during running that's safe and effective.
Loads of research has convincingly shown that the smaller the heel-to-toe slope of a running shoe, the easier it is to uphold better forefoot striking precision that's more balanced and less force-intensive during running, which can be very lucrative for injury prevention.
The outsole is also wide and flexes easy throughout, especially at the front and overall, provides an anatomically compatible fit that matches the silhouette of your foot, regardless of how wide your foot is. This ensures the foot can expand to its natural state which has a powerful effect of holding the foot more stable with the ground and provides a wider interface for better impact absorption (i.e. enables impact to diffuse over a larger surface area of the foot without creating dangerous impact over-pressure hot-spots on the foot).
For ground-feel clarity, you don't get the same barefoot underfoot-feel as most Vibram Five Fingers, the Sockwa X8 or the TadeEvos because the Joe Nimble Toes outsole is very robustly durable, making the outsole MUCH less vulnerable to the ravages of harsh roads at the expense of a lower sensory underfoot resolution. With that in mind, if you prefer not to feel every little pebble, stone, acorn or twig under your feet when you run, the Joe Nimble Toes definitely provides fuller underfoot protection but the ground-feel is still good enough to guide your forefoot strike to where it needs to be!
For traction, the tread is a blend of circular and deep lugs that provides secure traction on wet pavement. I've yet to run in them on snow-covered paths, wet trails or over wet leaves, but in a few months time, I will and will include my thoughts on those running conditions in an updated review.
Additionally, the Joe Nimble Toes comes with a thin, yet plush removable insole that's firm enough to deliver enhanced rock protection, but soft enough to add more comfort that lasts! 
Upper
The BEST design of a running shoe is one that ergonomically compliments the shape of the human foot which is what the Joe Nimble Toes delivers on! The forefoot of the shoe is anatomically correct in that its wide, allowing fuller toe-spreading which is essential for providing better stabilizing effects and serves as an extra source of natural impact protection during running.
The Joe Nimble Toes upper is a blend of a lightweight mesh, premium stitching and high-quality materials that moves with the foot. The upper also feels secure, robust and protective; it all seems held together pretty well!
For breathability, its fall where I am, so I can't comment on how well the shoes keep the feet cool in the summer, but in fall weather, I can run long distances (~18km) comfortably, without socks, and my feet stay warm!
Inside, the Joe Nimble Toes feel seamless and smooth because I've worn them without socks and to me, the upper gives a very consistent soft feel. Lots of comfort without any glitches through it!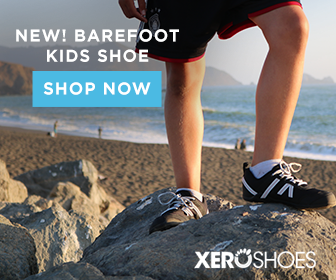 Final Thoughts
A runner looking to improve their foot strength and their forefoot running skills is very likely to benefit from the Joe Nimble Toes because the shoe really has all the essential features that makes a minimalist running shoe great for helping you build a stronger foot and for helping you avoid heel striking and preventing unbalanced footfalls during running. These shoes really have what it takes to helping you tune your forefoot strike mechanics to be lighter and more functionally organized which may help keep you rolling along injury-free.
I'd also like to point out the Joe Nimble Toes have a 3-year product guarantee which speaks volumes about the confidence the company has in the longevity and durability of their shoe! A big seller factor! 
If you want a more clear-eyed, in-depth assessment of the Joe Nimble Toes, here's my YouTube video review on them:
If you've enjoyed my review on the Joe Nimble Toes, you'll love my reviews, here, on other minimalist running shoes most suitable for forefoot running. I also have a YouTube channel, here, where I talk at lengths about the hard evidence in support of the health and performance benefits of barefoot running as well as forefoot strike vs heel strike running.
If you'd like, you can also make a donation of any amount to help keep Run Forefoot going!
"I believe the forefoot strike is the engine of endurance running..."

BSc Neurobiology; MSc Biomechanics candidate, ultra minimalist runner & founder of RunForefoot. I was a heel striker, always injured. I was inspired by the great Tirunesh Dibaba to try forefoot running. Now, I'm injury free. This is why I launched Run Forefoot, to advocate the health & performance benefits of forefoot running and to raise awareness on the dangers of heel striking, because the world needs to know.
Latest posts by Bretta Riches (see all)