The Xero Prio barefoot running shoes are a radiant example of a functional running shoe that turns real gains into lasting progress in developing stronger feet, postural control and better mobility, all of which will help you adopt easier to high mileage, high intensity running and other workouts, giving you a realistic shot at moving your best with minimal injury-risk. This is because the essential structural features of the Xero Prio barefoot running shoes add up to a complete functional package-deal for the feet that'll help improve your foot's joint mechanics, footstep stability and softens your interaction with ground when you run by providing a better overall sense of the terrain beneath your feet. This is also why the Xero Prio has multiple therapeutic uses based on these effects.
The Xero Prio barefoot running shoes are the first performance shoe from Xero Shoes that is built on the same thin, flexible, level platform as the Hana and Lena –which are for everyday casual use– but the Prio, being an athletic-specific shoe, is slightly wider overall, especially at the front, offering a new degree of openness for the foot to expand and the toes to spread and extend more fully at each step. But perhaps the most impressive asset of the Xero Prio is they're a sheer magic combination of heavy-duty, lasting durability and barefoot-feel. This makes the Xero Prio a weapon that can be used to go after hard, heavy miles on the harshest of technical surfaces while continuously delivering a fresh infusion of ground-feedback to keep you on sure-footing and secure effective forefoot running mechanics with more stable handling.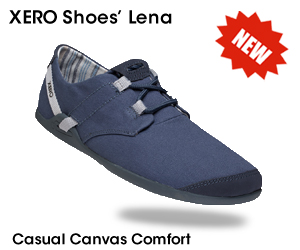 Let's look more closely at all the aesthetic and functional specifics of the Xero Prios barefoot running shoes and how these shoes take the lead in weaponizing your stride!
Upper
The Xero Prios soft-shell upper is made of 100% vegan-friendly, high-quality, lightweight mesh and bio-friendly polymers that delivers a soft, comfortable, irritation-free wrap to the foot, especially when worn without socks.
Despite being super light and airy, the upper has truck-like durability without adding a lot of weight to the shoe or compromising flexibility, enabling the shoe to seamless adapt to precise foot movements while ensuring an unconstrained, weightless fit.
Speaking of an unconstrained fit, your feet will immensely benefit from the width of the Prios upper whereby the shoes wide, square, flexible toe-box fully meets the functional needs of the feet by aiding in proper toe spreading which consistently enhances and is necessary for securing balanced, low-impact footfalls.
A wide toe-box is more than just good for balance stability and impact deflection. Toe spreading is also a compliment response during the touchdown and stance phase of running that helps roll-back the flow of hefty impact loads from rippling out from the foot, up the lower leg. Evidently, toe-splay helps keep plantar (foot) impact pressures within a safe range by acting as a vent that dissipates impact over a larger surface area of the foot so that there's no high pressure points localized to any one spot on the foot. This effectively helps relieve strain off the smaller bones in the foot, thereby reducing the risk of a metatarsal stress fracture. This is also why it's important to emphasize the need for fuller toe-splay during running and the Prios anatomically-configured upper is what's needed to keep your toes engaging actively in laying down more protection, especially for faster, high mileage efforts.

You'll also appreciate the huarache-inspired lacing system, meaning the laces not only have a functional role to play in improving the overall feel and fit of the shoe without any pressure points, but the lacing arrangement, which includes adjustable side-straps along the sidewalls of the shoe, are intended to better engage the toes by creating more space in the front of the shoe for greater toe spreading, flexion, bending and relaxing. The side-straps also gives the overall structure of the upper more strength and creates an excellent seal with an extra hold around the ankle and heel, while keeping the foot centered in the shoe from foot strike to toe-off.
Last but not least, those very same straps are reflective, so you can be better seen when the sun goes down!
Sole
Backed by a 5,000 mile warranty, the Xero Prios 5-mm outsole is a thin slab of sensory-richness that offers unsurpassed ground-feedback critical to stimulating the reflexive control circuits that results in better running form as well as healthy functioning feet! We are quickly learning that one way to get sustainable improvements in foot functional strength and running form is with ground-feedback at the underfoot, and the Prio is on par with delivering real results in those areas.
Despite its thinness and softness, the Xero Prios sole receives high-marks for providing just enough protection from gravel and rocks, giving a smooth-sensation of the underfoot on a range of hard, gnarly surfaces.
The sole also features a chevron-patterned tread that doesn't wear down as fast as most tread normally does in other minimalist shoes and provides excellent traction when running fast or slow, up and down hills in dry and wet conditions.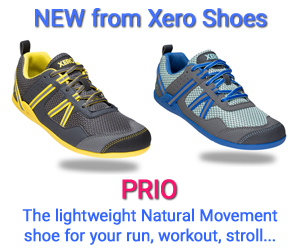 Aside from being fully flexible and dependably durable, the sole is zero drop (completely flat; toe-box and heel are level), thereby giving you a more similar barefoot sensory experience by getting your feet closer to the ground for the benefit of sturdier balance and better forefoot striking precision while running on the roads and trails.

If you desire a little more underfoot softness on harsher grounds, the Xero Prio barefoot running shoes also comes with an optional 2-mm insole that provides additional protection from sharp stones, acorns and roots while still putting little between you and the ground.

What's the Xero Prio Good for?
The Xero Prio barefoot running shoes are a great choice for fast or slow training sessions and high or low mileage runs (5km to ultra-marathons) on hard surfaces to dusty or hard-packed semi to very technical trails in wet and dry conditions.
The Xero Prio barefoot running shoes are also a terrific choice for trails with steep climbs and descents and running and walking up and down steep streets. The shoes also provides moderate traction on heavy snow-packed grounds. But the fun doesn't end there! The Xero Prio is also fitting for barbell lifting and overall heavy lifting, calisthenics, stair climbing, basketball and cross-fit.

Because the Xero Prio are completely free of structural constraints, the feet are much freer to engage at a high level which is a triggering mechanism that rapidly stimulates the foot's muscles. This provokes big responses in increased muscle tone and activation throughout the foot-ankle complex and is why just standing for long periods of time or walking in the Prio becomes an automatic conditioning exercise for the legs and feet. The net effect is remarkable improvements in your ability to cope and adapt to challenging paces, heavy miles and punishing routes.

I'd also like to point out that the Prio is recommended for runners on a budget because the price isn't too shabby (~$89)!
How Do the Prio Compare to Other Minimalist Shoes?
Some wear-testers report that the Xero Prio has a similar fit and feel as the Lems Primal 2, except the Prio is more flexible at the heel and is easier to avoid heel striking while running because the curvature of the back of the Prio helps keep your forefoot strike more on target. Another big advantage of the Prios over the Lems is the Xero Prio comes with a 5,000 miles outsole durability warranty whereas Lems is good for 300 miles.
The Xero Prio was also reported as being more roomy than most Merrell minimalist shoes and provides similar immediate ground-feedback as most Vibram FiveFingers.
Final Thoughts…
If improvements in your forefoot running form aren't happening fast enough, and you're not a fan of running barefoot, the Xero Prio is a great first choice alternative that can provide similar self-reinforcing feedback at the feet that'll give you a good baseline to make major improvements in your overall kinetic flow.
Bottom line, the Xero Prio barefoot running shoes can help you do a lot more than you currently are and works great where its meant to! I'm thrilled Xero Shoes have finally come on the scene with a series of strongly durable minimalist shoes and like their sandals, their shoes have received nothing but universal appraise!
If you want to get your paws on a pair of the Xero Prio barefoot running shoes, you can do so here!
If you've enjoyed this review, you'll love my reviews on other minimalist shoes well-suited for forefoot running here as well as my YouTube channel here, where I talk at length about the health and performance benefits of not only minimalist running, but barefoot running!
P.S. Don't forget to check out my Run Forefoot Facebook page here! It's a terrific place to ask questions about forefoot running, barefoot running and injury. I'm always happy to help!
If you'd like, you can also support Run Forefoot and help keep it going strong, in full-force, by making a generous donation in any amount of your choosing: https://www.paypal.me/RunForefoot
"I believe the forefoot strike is the engine of endurance running..."

BSc Neurobiology; MSc Biomechanics candidate, ultra minimalist runner & founder of RunForefoot. I was a heel striker, always injured. I was inspired by the great Tirunesh Dibaba to try forefoot running. Now, I'm injury free. This is why I launched Run Forefoot, to advocate the health & performance benefits of forefoot running and to raise awareness on the dangers of heel striking, because the world needs to know.
Latest posts by Bretta Riches (see all)