Built with similar construction as the Z Trek, the Xero Shoes Z Trail is a more cushier version that's just as sports-oriented, and really, the Z Trail has no faults!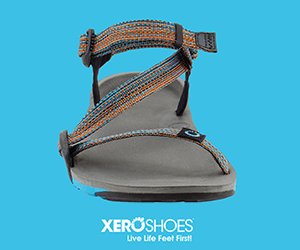 What's the Xero Shoes Z Trail Good for?
The Xero Shoes Z Trail is best suited for those who want more smoothing of the road because the sole has more adaptable cushioning that responds wonderfully to a range of terrain. Not to mention, the plush feel puts some extra pep in your step, too!
The Trail is perfectly capable of handling high mileage on the roads, and is a definitely a great choice for long runs, power hiking and walking on soft trails, dirt surfaces, the track and on other forms of smooth terrain.
The Z Trail is also wonderful for walking long distances on packed earth, sand, semi-technical terrain as well as crossing streams, weight lifting, yoga, and causal, everyday wear!
Upper (Straps) Specifications
One of the most admirable features of the Z Trail is the easy flex, adjustable Z-pattern Velcro straps with plastic buckles that secures a foot-hugging fit that adapts to precise movements of the foot, and like the outsole, are built to last!
When it comes to comfort, the strapping system definitely gets a stamp of approval! The straps and buckles feel incredibly soft and smooth against your skin and gives a light, fast feel that also helps keep your feet flexing, expanding and engaging, getting the feet to participate more fully in the way that they should, which is necessary and important for foot strength progress to grow and be sustained.
Another appreciated asset of the Z Trail's strapping system is that there's no bothersome toe-post, rather the Z-pattern straps offers more fitting dynamics and a better feel as well as a seamlessly adaptable fit across the width of the forefoot. The straps are also sufficiently flexible to enable the toes to spread naturally and are easily adjustable for a customizable fit regardless of foot shape!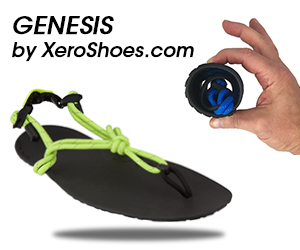 Sole Specifications
The Z Trail sits on a zero-drop, 10 mm rubber sole that is actually the thickest sole out of all the barefoot sandals from Xero Shoes. But, despite having a thicker sole than your average barefoot sandal, the Z Trails sole delivers a perfectly connected ride without feeling clunky nor comprising ground-feel. 
For a softer ride, the sole is constructed with lightweight foam and soft carbon rubber that adds up to lasting comfort for high mileage running on asphalt, hard-packed dirt trails and crushed gravel paths. The sole really does help you roll over the roads like a tank! 
The carbon rubber is also abrasion-resistant which offers reliable protection against sharp objects, and is surprisingly light and flexible throughout, making you more stable on uneven terrain.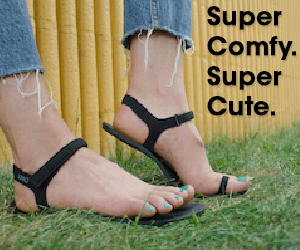 Its also been well-reported that despite the extra cushioning, wear-testers were surprised by how natural the underfoot felt and that the sole is thin enough to keep you fully dialled into your forefoot strike.
As for traction, the Z Trails sole is amped up with an array of multi-directional, chevron-shaped tread, without adding extra weight to the sandal, and supplies good latching power on wet pavement, rocks as well as on dry and smooth, rugged surfaces.
Last but not least, the sole is wide to engage foot expansion and toe spreading for the benefit of better balance and improving foot shape, getting your feet in better than if they were to remain in the traditional running shoe.
Final Thoughts
If you want more cushioning, the Z Trail is for you because the sole provides robust protection, comfort and traction to enable you to run as fast as you can on slippery, beat-up areas. The straps also give the sandal rock-steady sturdy framework while doing a great job at keeping your foot centred in the shoe from foot strike to toe off without pressure points.
If you're interested in the in the Xero Shoes Z Trail, you can get your paws on a pair here!
If you've enjoy this review, you'll love my reviews on all the other top barefoot shoes here!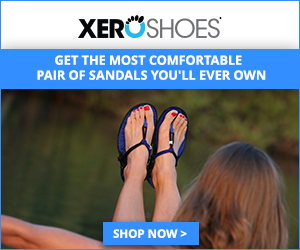 If you'd like, you can also support Run Forefoot and help keep it going in full force by making a donation in any amount of your choosing: https://www.paypal.me/RunForefoot
"I believe the forefoot strike is the engine of endurance running..."

BSc Neurobiology; MSc Biomechanics candidate, ultra minimalist runner & founder of RunForefoot. I was a heel striker, always injured. I was inspired by the great Tirunesh Dibaba to try forefoot running. Now, I'm injury free. This is why I launched Run Forefoot, to advocate the health & performance benefits of forefoot running and to raise awareness on the dangers of heel striking, because the world needs to know.
Latest posts by Bretta Riches (see all)