One of the more perfect alternatives to barefoot running is the Xero Amuri Cloud, which is a highly versatile athletic sandal that packs a surprising amount of protection, durability and lasting comfort. These sandals also come ready to wear, so you don't have to fuss with installing the laces!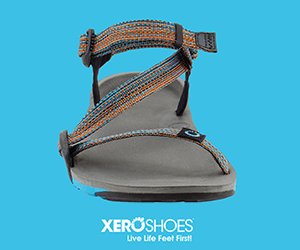 What's the Amuri Cloud Good for? 
Aside from being highly recommended for runners looking to ease into barefoot running, the Amuri Cloud supplies a surprising amount of comfort for longer runs on smooth roads and the track.
The sandal is also a solid execution for less extreme off-road adventures, delivering a well-balanced, snappy ride for high-mileage tempo runs, hikes and walks on softer trails. Even better, because of the light, feathery feel, runners may prefer the Amuri Cloud for fast running! Additionally, the sole has excellent traction for running and walking on wet pavement.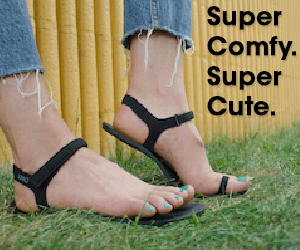 The Amuri Cloud is also a big performer for climbing dry or wet rocks, swimming, rafting, hiking on moderately technical surfaces, long walks on the beach and of course casual everyday wear! In fact, whether walking or running, these minimalist sandals are an excellent tool for strengthening your legs and feet.
Upper (Lacing) Specifications
You'll love that Amuri Cloud lets your foot fully breathe and stay cool, making the sandal a superb choice for the summer. The lacing system provides a good secure fit, cinching in the foot for a reliable on-trail control without any pressure points! The laces are very flexible to accommodate a wider foot shape, too! There's also plenty of room in the front so the toes can spread and relax.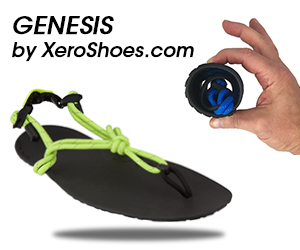 You'll love the adjustability of the laces/straps; its super easy! You can loosen or tighten them with just a quick movement of the central loop over the top of the foot.
The back-strap can also be easily re-positioned to secure it wherever it feels most comfortable. Moreover, the back-strap is strategically placed higher than most barefoot sandals to prevent it from shifting downward and helps secure a sealed fit to your foot. Better yet, the higher positioned back-strap also perfectly prevents chaffing and blisters at the heel!
All in all, the laces cinches down nicely for a snug fit that moves with the foot while being pressure-free.
Sole Specifications
The Amuri Cloud sits on a 6 mm thin sole that not only has a super fast feel, it offers more cushioning and a noticeably softer ride than most minimalist running sandals, including the Xero Shoes Jessie's. The extra protection also allows the sole to hold up better to long miles on hard harsh roads.
Despite offering a more plush feel, the zero-drop sole still supplies a lot of ground-feedback to help you improve and maintain your forefoot strike stride. The sole is also wide to allow forefoot spreading and flexing, yet snug enough throughout the heel and mid-foot to prevent slippage.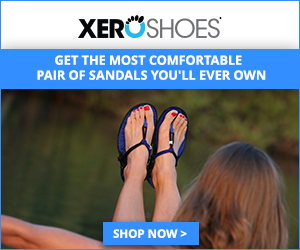 You'll also appreciate that the heel cup is strategically placed to prevent debris from trapping inside the sandal.
Final Thoughts
No where does the Amuri Cloud fail in re-creating the barefoot experience, but they are recommended for runners looking for a touch of cushioning. And, they are affordable!
*Sizing Tip – Because the Amuri Cloud's are intended to mold exactly to your foot's structure, you should order a full-size larger than your normal size!
Interested in learning more and getting your paws on a pair of the Xero Amuri Cloud's? You can do so here!
If you like this review, you'll love my other reviews on the following Xero footwear:
Amuri Z-Trek
Looking for something different, other than a barefoot running sandal? Here are my reviews on barefoot-like running shoes for forefoot strikers!
If you'd like, you can also support Run Forefoot and help keep it going in full force by making a donation in any amount of your choosing: https://www.paypal.me/RunForefoot
"I believe the forefoot strike is the engine of endurance running..."

BSc Neurobiology; MSc Biomechanics candidate, ultra minimalist runner & founder of RunForefoot. I was a heel striker, always injured. I was inspired by the great Tirunesh Dibaba to try forefoot running. Now, I'm injury free. This is why I launched Run Forefoot, to advocate the health & performance benefits of forefoot running and to raise awareness on the dangers of heel striking, because the world needs to know.
Latest posts by Bretta Riches (see all)